Gallega's state of the art facilities deliver the technology, security, material handling and storage to facilitate global supply chains with complete traceability. Our teams in the UAE operate from two central hubs in Dubai's Jebel Ali Free Zone (JAFZA) and Abu Dhabi's KIZAD free zone, benefitting from a combination of connectivity, integration and storage capacity.
CCTV, round the clock security and backup generators come as standard to guarantee a tamper-proof environment, while advanced warehouse and inventory management systems deliver speed, efficiency and transparency.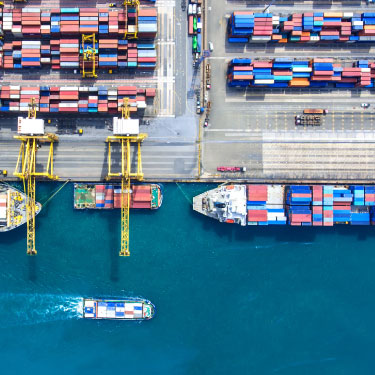 JEBEL ALI FREE ZONE (JAFZA) DUBAI
As the business capital of the Middle East, Dubai is an international business hub with a wide range of opportunities for different activities and operations. Jafza is one of the most competitive locations to establish business and grow since Jafza's product offerings ensure that you will find the right set-up for your needs.
Gallega Global Logistics has therefore established its 3PL Logistics Hub in JAFZA Free Trade Zone which benefit to its customers due to close proximity to land, air and sea routes, with the free zone extending to the Jebel Ali Port in one direction and linking to Dubai's new Maktoum International Airport in the other. The facility hosts a warehouse and open car yard situated near the port to create smooth transitions between unloading to storage or transport options. The 16,000 sqm open yard acts as a buffer for finished automotive and project assets, while the 12,000 sqm warehouse delivers 5,500 pallets of storage for FMCG goods, car parts and a variety of other goods. Our storage teams can offer clients a range of storage methods to fit their needs, including racking, bins, shelving and bulk stacking.
KHALIFA INDUSTRIAL ZONE
ABU DHABI (FREE ZONE)
KIZAD is intrinsically linked to Khalifa Port; one of the world's most advanced deep-sea ports and the region's first semi-automated port.
KIZAD empowers business with excellent access to markets through a world-class transportation infrastructure with multimodal connectivity by road, ports, rail and air networks. Khalifa Port Free Trade Zone (Khalifa Port FTZ) is most suitable for trade, logistics and manufacturing.
Gallega Global Logistics has therefore established the 3PL Logistics Hub in Kizad Free Trade Zone by acquiring 325,000 sqm of land with modern infrastructure consisting Covered Warehousing with storage options including racking, bins, shelving and bulk stacking & distribution Centre, an Open Yard Vehicle Storage facility, Vehicle Pre-Delivery & Accessory workshop to offer clients maintenance, repairs and modifications for vehicles.