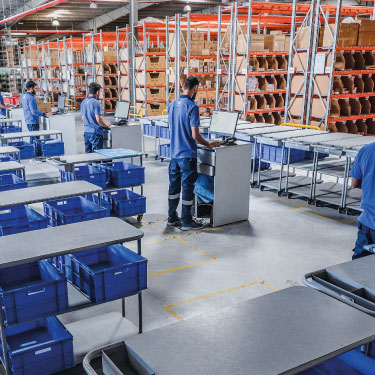 Our warehousing and distribution facilities in JAFZA and KIZAD offer our customers flexibility in reaching their markets within the UAE and abroad. The facilities are based within the respective free zones and enabled for a range of products, providing full visibility of inventory through our warehouse management software (WMS) to customers.
Our warehouses offer a range of storage methods – from palletized storage to shelving and binning – to offer customer's customised storage solutions. Our proximity to land, sea and air routes allows us to offer agile distribution networks for all manners of goods, including fast moving retail inventory, supported by full visibility tools and optimized route management solutions.
VEHICLE STOCKYARD
Our vehicle stockyard facilities in KIZAD and JAFZA follow OEM standards and can collectively house 16,000+ vehicles. With over 22 years of experience in managing automotive storage for reputed brands, we provide stock maintenance solutions that keep vehicles in peak condition and available for loading and delivery at short notice. Gallega delivers cost-effective and integrated automotive supply chain services operated by a team of experienced finished vehicle logistics experts and an inhouse fleet of recovery vehicles and car carriers to ensure quality is delivered throughout the process.
SPARE PARTS WAREHOUSING
Our automobile spare parts facilities in JAFZA and KIZAD deliver custom-built warehouse solutions and distribution for manufacturers and resellers. Our adoption of a warehouse management software facilitates customer inventory visibility and demand planning. API interfaces are available for system integration to enable system generated order placement and stock management through the customer's own ERP software. Our end to end solutions ensure that parts for maintenance, upkeep and aftermarket solutions are made available to clients in time and with low overheads.
RETAIL WAREHOUSING
Our facilities deliver world-class warehousing and storage for retail and FMCG goods, with focus on quality and security standards promoting stock integrity and availability. We help retail operations of any size secure their supply chain and keep inventories running optimally through system integration providing visibility for stock management and demand planning based on product life cycles.